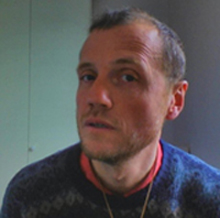 Alain Rivière was born in Paris, France. He has been living in Berlin and Venice, where he works as artist and writer.
His works (photos and paintings) have been presented in one-man shows and collective exhibitions. His texts (poetry, theatre, short stories) have been translated in English, German, Hungarian, Spanish and Italian.

Alain Rivière was reader and translator for several newspapers and journals. He was also in 2000 the director of the exhibition "Der Photografische Text" (Stadtbibliothek, Berlin) about the history between literature and photography.
Publications:

Editions Zebra (Berlin):
«Das Buch vom Schlesischen Tor» (1997), «Gedicht» (1998).

Revue Cork Lined Room (Peterborough): «Poetry» (1999).

Editions Reklam (Leipzig): «Narziß» (1999), «Pandora» (2002).

collection Mythos, Rheinisches Landestheater (Neuss):
«Der Schauspieler» (2000).

Editions Philo (Berlin): «The Diaspora in Monheagan Island» (2002).

Revue Latho (Hungary): «The Messias» (2004).

Revue Drei-Raben (Hungary): «Portraits/Interiors» (2007).

Haus-Luther:
«
The Painting by Eva Kusch» (2007).

Ici é Là, photography, France (2010).

Edizioni CFR (Italy):
«
Un instant sur l'eau. Un instante sull'acqua.
»

A cura di Gianmario Lucini (2013).